How to resolve "Windows Protected Your PC" message when installing Cycle
Occasionally, when first running the Cycle installer, the following error message may be encountered.
To resolve this issue, simply click on the "More info" link. That will display more information about the app that is being prevented from starting. Additionally, a "Run Anyway" button will also appear at the bottom of the window. Double check that the "App:" referenced in the is the same file that you've downloaded from the Cycle Portal, and that the publisher is Tryon Solutions (Tryon Solutions, Inc). Once that has been verified, you can click on the "Run Anyway" button.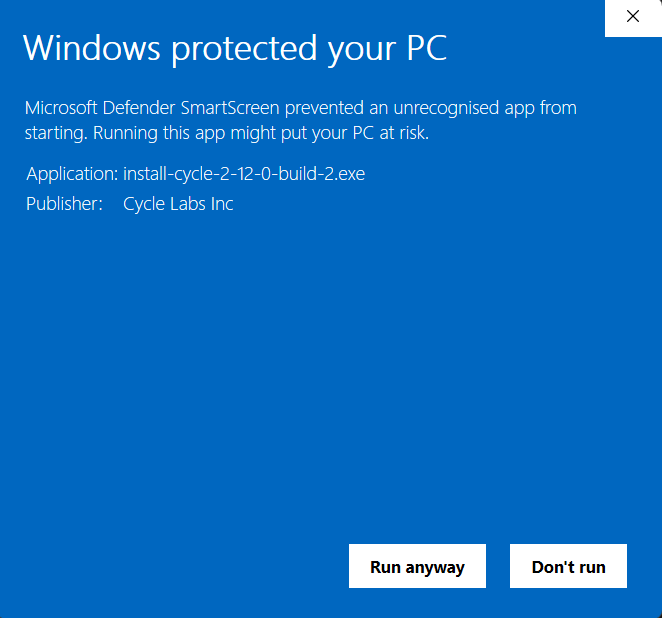 The Cycle installer should now execute properly.
Related Articles

Cycle 2 Install FAQ

The Cycle install process and post-install authentication process has changed as of the release of Cycle 2.9.2. This process applies to Cycle 2.9.2 and all future versions of the Cycle 2 Application. This article contains frequently asked questions ...

Cycle 2 Install Guide

This article covers the process of installing the Cycle Client on your device and the steps required to authenticate using your Cycle Cloud credentials. The release of Cycle 2.9 kicked off our incremental move toward the cloud, leveraging more modern ...

How to Make Cycle Proxy Aware

Certain firewall or proxy configurations may possibly prevent the Cycle authentication process from working properly, and Cycle will not be able to secure an access token. The purpose of this article is to describe the process for making Cycle proxy ...

Addressing Cycle 2 Authentication Issues Caused by Network Configuration

Problem The Cycle login process uses the Cycle Labs Azure B2C instance to complete the authentication process and grant an access token for using Cycle. If the machine Cycle is installed on is behind a firewall or proxy, Cycle may not be able to ...

How to Reset Your Cycle Password

This article describes the process for resetting the password for your Cycle account. Your Cycle account (email and password) are used for the activities listed below. Please note that you will use the same email and password regardless of the ...